Optical Belt Weighers | Optical Beltscales
An EmWeA optical beltscale is usually mounted into an existing belt conveyor or another suitable conveying system (vibratory conveyor, trough chain conveyor…) Optical beltscales continuously and accurately measure the momentary volume throughput (e.g. in cbmph) as well as the totalized bulk volume (cbm).
We are offering the following optical beltscale models: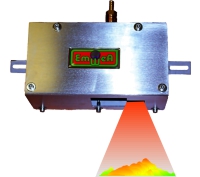 Optical Beltscale FLO-3D II
optimal for industrial use
Model FLO-3D II is our innovative optical beltscale for stationary use in industries. This optical beltscale has a robust, fully wear-free design and distinguishes itself in a dead easy installation and a quick and easy start-up. The optical beltscale FLO-3D II works fine even with light-weighted bulk materials like e.g. substitute fuel or waste.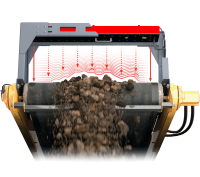 Premium Optical Belt Scale EHS
for mobile and stationary Equipment
This high precision optical beltscale is especially designed for use in the harsh environment of mobile systems (crushers, screens etc.) A version for stationary conveyors is available, too. The optical beltscale does not have any display or operating option. The included smartphone (shock-proof, water-proof IP67) with SensorManager app is used for data enquiry, setup and operation. A mobile printer is included.
For stationary resp. industrial use, optional inputs and outputs as well as a serial interface are available. Furthermore, you can go without the smartphone.