Static Weighing Scales
Static weighing scales are used to weigh goods at rest. Examples are: crane scales, platform scales, palett scales, weigh bunkers, or weighbridges.
We are offering the following static weighing scale models: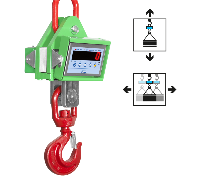 Crane Scales
EmWeA crane scales are intended for easy weighing of suspended loads on cranes, chain blocks, etc. The crane scales' possible max. loads reach from 150 kg to 55 t.
For weighing by way of legal transaction, OIML approved crane scales are available, optional with integrated alibi memory. We are offering crane scales with ATEX approval for potentially explosive environments, too.